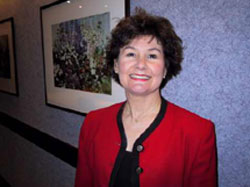 Founder : Danièle DesChênes, lawyer and MBA in Finance
Since 1994, Ms. DesChênes has been widely recognized in the high tech field for having written numerous business plans and having provided legal advice to her clients in the fields of business and intellectual property. After obtaining her MBA, Ms. DesChênes worked with many young entrepreneurs in the preparation and the writing of their strategic business plans which enabled them to establish strategic alliances and to obtain financing. With the help of investors, accountants and tax specialists, she acquired invaluable knowledge and expertise to counsel the financing of companies, using equity, debt, licensing and other financial instruments, and was involved in numerous financial transactions. She also was involved in many spin-offs and license agreements with companies, universities and organizations in Canada, the USA, Europe and Asia.
This double expertise allows her to offer a global approach which is an invaluable asset to any technology firm, in a variety of industries including IT/Web, Computer Systems, Medical technologies, Life Sciences and Cleantechs, with the need to protect its technology or build up its own IP, to penetrate the market and to execute its business plan with market research, legal and financial expertise.
Her major assets are:
Double expertise in Business law and Finance


Vast Knowledge and Experience in international business


Profound understanding of Technology platforms


Extensive Management experience
Business model
Ms. DesChênes provides legal and business counsel as well as strategic advice to her clients on a variety of contract issues, on equity investments, tax issues, financing, shareholders' agreements, partnerships, deal structuring, acquisition and sale of businesses, spin-offs and technology transfers, licensing, equipment leasing, incorporation of subsidiaries and affiliate companies in Canada, Europe, the USA, and abroad. Many clients request her services to set up good corporate governance in order to reduce the risk of disputes and to ensure that directors comply with their legal obligations.
Ms. DesChênes works in close collaboration with a team of 14 highly qualified lawyers possessing complementary skills, expertise and experience. Ranging from junior to senior levels, this team of lawyers provides the highest quality and most responsive service, ensuring that an attorney familiar with the transaction or issue is always available and responsive to the client.
For complex matters or if a client requires a trial, arbitration or other special need, Ms. DesChênes partners with one or two lawyers in a team effort to maximize the client's probability of prevailing at trial or settling with the most favourable result possible.
Fields:
Business law, Corporate financing, Deal structuring, Re-organizations, Franchise, Mergers & Acquisitions, International Trade, Joint Ventures / Partnerships, Due diligence, Business Immigration
Intellectual Property, Information technology, E-commerce, Licensing, Technology Transfer / Spin-off
Commercial and Corporate law, Real estate, Civil law, Employment law
Team
| | |
| --- | --- |
| Ryan Allen | François Gottlieb |
| Eric Benhamron | Michael Heller |
| Jean Bernier | Jean-François L'Archevêque Montpetit |
| Louis Carmichael | Guy McDonald |
| Patricia Chamoun | Jean-Philippe Ponce |
| Danièle DesChênes | Vonnie Rochester |
| Patrick Dubé | Judah Wolofsky |
Contact : daniele@deschenes.biz